BlackBoiler's new user interface and Playbook Builder will make it dramatically faster and easier to realize the efficiency gains of contract automation. This is set to be a game-changer for in-house legal teams, law firms and alternate legal services providers, and business functions like Sales and Procurement that regularly handle complex contract work.
We've looked at how these capabilities solve the problems associated with training AI-powered contract automation systems, and at how they tackle wider legal technology implementation challenges. Plus we've taken a tour of how intuitive the new BlackBoiler platform is to use.
In the final blog in this series, we take a step back and examine some of the fundamental contract automation challenges that BlackBoiler has specifically been designed to overcome. And we explain why these new capabilities will have a positive impact on the wider contract AI and legal technology market.
Contract Lifecycle Management (CLM) Software: Why Negative Experiences Happen
It's not unusual for a Contract Lifecycle Management (CLM) solution to take up to 18 months to implement, and to require the support of a dedicated team of third-party integrators. Automating of the contract review process is a notoriously laborious part of the CLM setup process, with a contract AI technology often needing to learn from many historic redlined contacts before it attains the required level of precision and accuracy.
These long implementation cycles may result in abandoned projects, cost overruns, and a failure to recognize the promise of contract automation technology. They also hinder the ability of both products and companies to scale.
We believe these implementation cycles are unacceptably slow, and create a negative impression of legal tech within the legal industry that's bad for the sector as a whole.
Some contract automation vendors claim their platforms can be trained by 'reading' a couple of dozen contracts, and get up and running in minutes.
But these services often retain a manual or human element behind their AI interface, and so will never attain the speed and accuracy of a truly automated AI.
Increasing Legal Contract AI Access and Removing Dependencies
Paradoxically, a second big challenge is that legal contract AI has become a victim of its own success. Explosive growth in the contract tech space has resulted in companies that can sell their products faster and better than they can implement them.
The market simply lacks qualified implementation teams and processes with the technical know-how to implement and integrate these complex software solutions.
Once again, in these scenarios, implementations are likely to fail and leave customers with products that don't have the desired effect on their speed and efficiency metrics.
Simply put, the legal technology industry does not have the resources to implement all of the CLM and contract tech that is being sold.
It's Time to do Contract Automation Differently
At BlackBoiler, we looked at this status quo and were determined to be an agent of change.
We recognized the need for our industry to drastically reduce the time it takes for our customers to unlock the value of our legal tech products. Our clients should be able to purchase our technology and immediately see a return on investment.
Without quick and clear results, clients are likely to quickly lose faith in legal tech platforms and revert to traditional business processes.
Our belief in the as-yet unrealized potential of legal AI technology motivated us to challenge the status quo, and offer corporate legal departments a faster and more efficient way to access the benefits of contract automation.
That's why the new and improved BlackBoiler Platform will empower our clients to build their own digital Playbooks in minutes, without relying on BlackBoiler's contract analysts or having to search to find examples of historical edits.
The result? Fast implementation, a seamless user experience, and a rapid return on investment – in other words, all those great things legal tech and CLM platforms have always promised.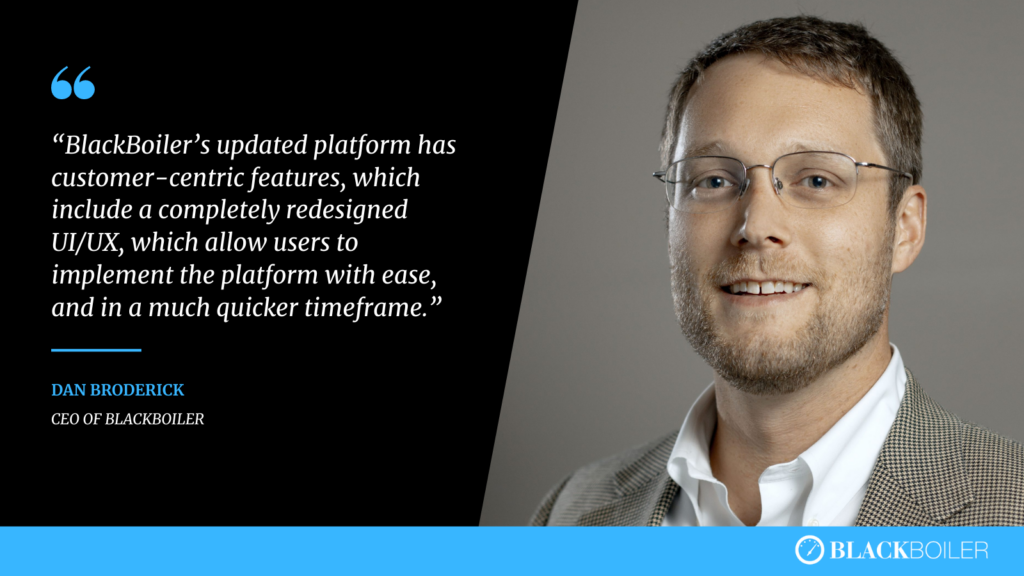 The Way Ahead: Test Drive BlackBoiler Today
It's now quick and easy to understand if BlackBoiler is right for your organization. With the Playbook Builder, companies that are interested in BlackBoiler will be able to sign up for a trial, build an automated Playbook, and start uploading contracts in no time.